Where have you been?
Hello space adventurer, you may be wondering where in the universe I had been until now, well, I have been at another country state for family reasons for nearly 1 month, and yes, right after the previous problem. I should get back to my home state very soon.
But notice I have been silently posting progress images and videos(although at a slower pace) regularly, as I always do, first smaller updates, then a news article.
Progress
Another step for a finished trailer was done, which was planning the campaign setup scene and of course executing it, very soon I opted for a "warp speed" animated background and adjusting it to not bring too much attention from the menu itself.
I also started another trailer step, planning the spaceship customization scene for the nightkin race. I too had to experiment a bit with the colors, but I achieved something which does not took too much attention from the test spaceship itself.
It will take more planning for the menu itself for customizing the starship, like how the main options will be arranged, sub-options hierarchy tree and such.
The current missing trailer pieces are(still plenty to do):
Rest of the exploration system, including combat
Specific menus for some skills
New space map and space combat - in progress
Spaceship customization - in progress
City view(should be done soon)
Animated art for the dark version main characters - in progress.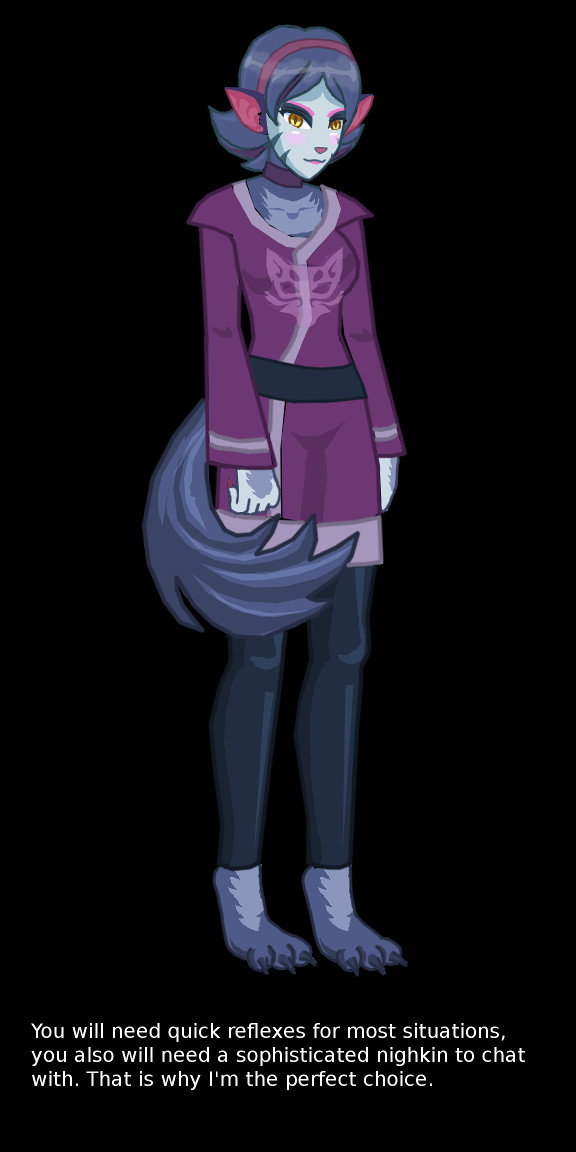 I have been wanting to include such a faction for a long time, and now it is real, a "beast faction"; there you can combine different animal parts to create your humanoid beast alter ego.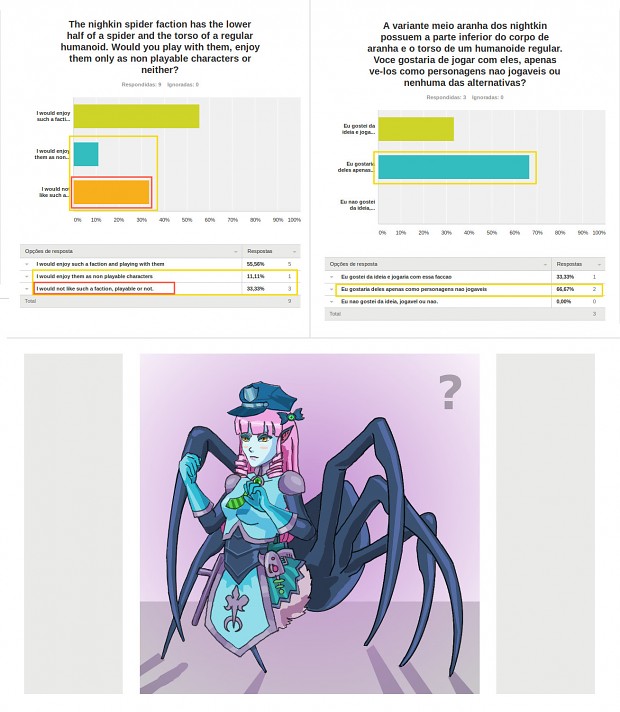 But on the other side, although the votation results for the spider centaur nightkin won with 2 two favorable votes, it did shown which it would not be so interesting having them on a semi sci-fi setting game, Not only by watchers opinion, but I also though about the issues a quite big lower half would cause, and the issues of combining insect and humanoid. I may still make a "insect faction" with a better combination of insect and humanoid parts, but don't count on it.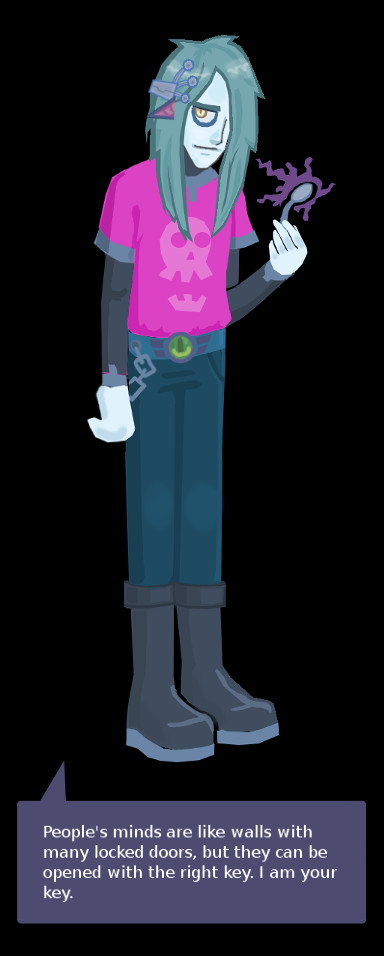 It is not essential to the trailer, but for the game itself; I already made the male version for the psionic nightkin class.
Talking of which, I said previously I expected to "hopefully have a game demo after I complete the trailer", well, now it is not "hopefully", I will do so to have an already working game when in the future I attempt to earn some well deserved money for the project, because that way I will have to deal with less risk factors to deliver a complete game, it will also help a lot in showcasing the game as well together with a good trailer.
I'm also interested in making a veeery different thing for the gender setup of your character, why not a third gender option? There is a public for that I assure you, but only time will tell me how many, like it did for the defunct "spider faction".
Contribute
Thanks for your visit space adventurer! If you liked this project you can help make it happen by:
Onde você esteve?
Ola aventureiro espacial, você deve estar se perguntando onde no universo eu estive ate agora, bem, eu estive em outro estado do pais por razões de família por quase 1 mês, e sim, logo após o problema passado. Eu devo voltar ao meu estado natal em breve.
Mas notem que eu estive silenciosamente postando imagens e vídeos de progresso(apesar de em ritmo lento), como eu sempre faço, primeiro atualizações menores, então um artigo.
Progresso
Outro passo para um trailer terminado foi finalizado, que era planejar a cena de configuração de campanha e e claro a executando, cedo eu optei por um fundo animado de "velocidade de dobra" o qual ajustei para não chamar atenção demais do menu em si.
Eu também iniciei outro passo do trailer, que e planejar a cena de customização de espaçonave para a raça nigghtkin. Eu também tive de experimentar com cores, mas eu consegui algo que não chama atenção demais da nave de teste em si.
Levara mais planejamento para o menu em si da customização da nave, como o layout das opções principais, hierarquia da arvore de sub-opcoes e afins.
As partes que ainda faltam para o trailer são(muito a fazer):
Resto do sistema de exploração, incluindo combate
Menus específicos para algumas habilidades
Novo mapa espacial e combate espacial - em progresso
Customização de espaçonave - em progresso
Vista da cidade(deve ser feito em breve)
Arte animada para os personagens principais da versão escura - em progresso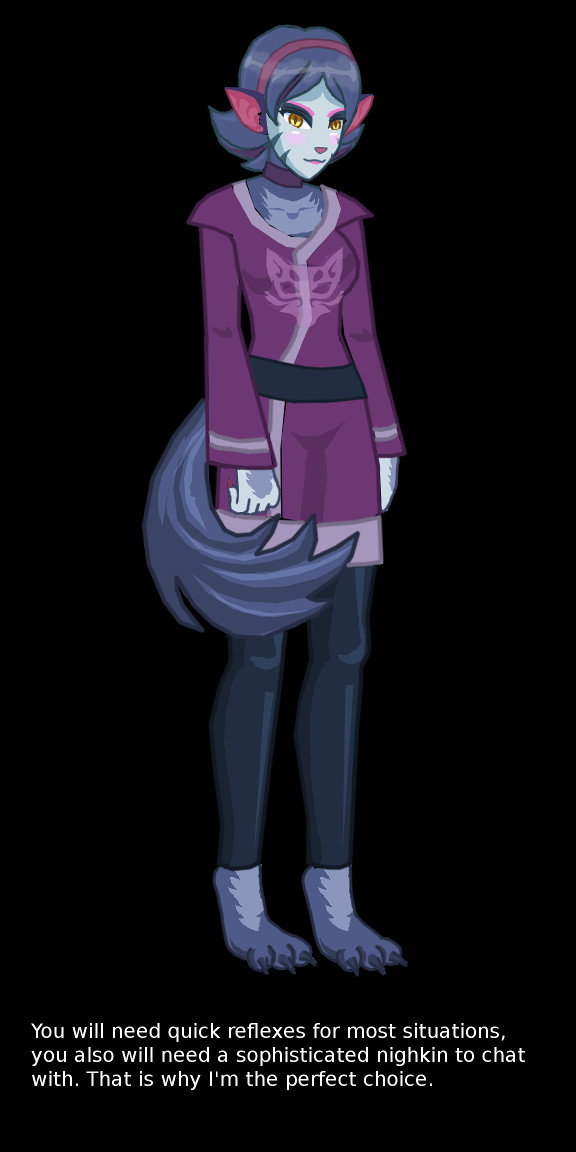 Eu estive desejando a algum tempo incluir uma facção no jogo, e agora e real, a "facção bestial"; nela você pode combinar diferentes partes de animais para criar seu alter-ego humanoide bestial.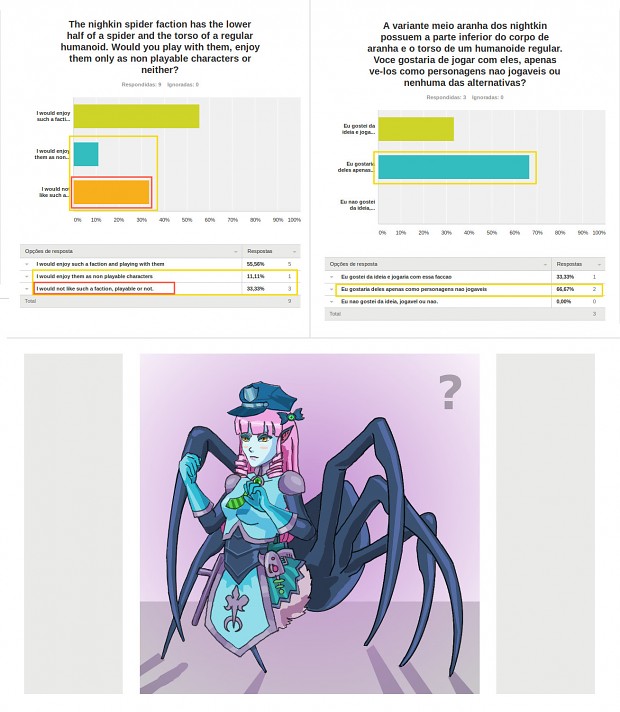 Mas do outro lado, apesar do resultado das votações para o centauro aranha ter terminado com 2 votos favoráveis, ele mostrou que não seria tão interessante os ter em jogo semi sci-fi, nao apenas pela opinião dos interessados no projeto, mas eu também vi que um torso inferior maior causaria vários problemas, e as complicações de combinar insetos e humanoides. Eu talvez ainda faca uma "facção inseto", com uma combinação melhor de partes humanoides e de insetos, mas não espere por isso.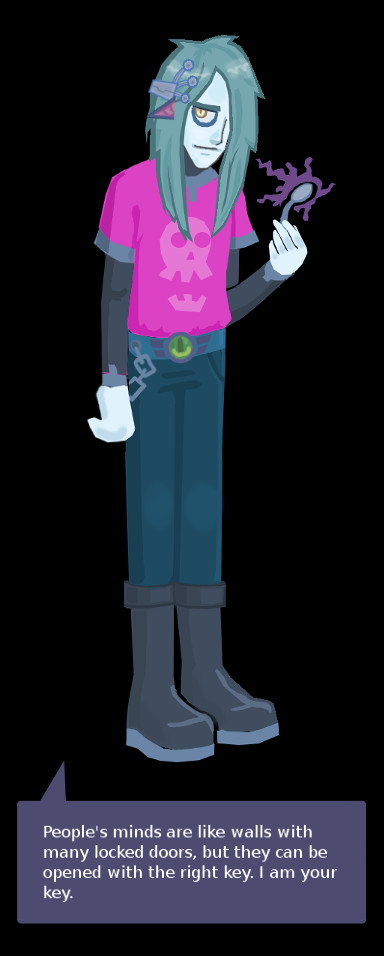 Não e essencial para o trailer, mas para o jogo em si; eu já efetuei a versão masculina da classe dos psionicos.
Falando nisso, eu havia dito antes que esperava "esperançosamente ter um demo do jogo assim que completasse o trailer", bem, agora não e "esperançosamente", eu irei ter um demo ate lá para que eu já tenha uma base funcional quando eu tentar ganhar um merecido dinheiro com o projeto, porque dessa forma eu teria que lidar com menos fatores de risco para entregar um jogo completo, isso também me ajudara muito na divulgação do jogo junto a um trailer já interessante.
Também estou interessado em criar algo beeem diferente para a configuração de gênero de seu personagem, porque nao um terceiro gênero? Existe publico para isso eu lhe garanto, mas apenas o tempo me dirá quantos, assim como o fez com a falecida "facção nightkin aranha"
Contribua
Obrigado pela sua visita aventureiro espacial! Se você gostou desse projeto você pode ajuda-lo a acontecer ao: